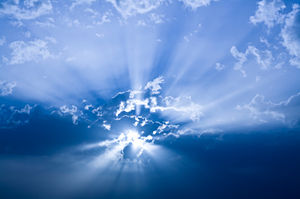 In 1984 I experienced a very intense near death experience (NDE), which left me crippled and semi-comatose for several months in a hospital in Naples, Italy. It was not an experience I was ever planning to have in my life nor would I have believed that I would have ever recovered from such a catastrophic event.
I was in my early 30's living an adventure of a lifetime. I partied in the big discos of Rome, yachted with the rich and powerful in the summer on the Amalfi Coast, the islands of Capri, Ischia, Greece and on the beaches of the emerald coast in Sardinia. Never in my wildest dreams could I have prepared for what would happen to me and my two friends on a hot August evening on the famed Italian highway on the Amalfi coast, as we drove to Naples, Italy on a late Sunday night.
We had been on the beach all day in the small village of Vietri Sul Mare, famed for the beautiful artisan pottery and ceramics that are fired in the underground kilns. My friends and I were later to join a friend who is a shop keeper and lives a peaceful life in a small palazzo in the center of the village. After sunset we dined on his balcony enjoying the simple yet delicious Italian summer cuisine of fresh fish, mussels, insalata caprese (the famed salad of fresh latte de buffalo, fresh basil, vine ripened tomatoes and olive oil) while drinking red wine from his cellar.
It is worth dying to find out what life is ~ T.S. Eliot
Later in the evening one of my friends, a beautiful young German fraulein from Heidelberg named Ushie, who worked in a local shop, suggested we all go to Naples for a shopping spree on Monday. Since Orazio, whose BMW 700 series would be our ride into the city, needed to agree on the journey, who himself was off on a month long vacation in August called ferie in Italian,  we would make plans to drive fairly late after digesting our dinner. The shopping spree was only planned for one day at the most and we would return to the seashore on Tuesday. However, this would not be the case.
Later that same evening we left our host to drive on a dark highway to Naples. We stopped on the way at a local service station, to fill up and purchase espressos to stimulate our further two hour drive.
Orazio drove, I sat in the front passenger seat and Ushie reposed in the back seat directly behind me. In those days it was not yet a habit to wear a seat belt and the Italians are legendary for driving fast in their well-designed cars.
Ironically, I put a cassette tape of Devo on and as we approached a curve on the road the song playing was 'Whip It'. Orazio and I were talking and Ushie was napping in the back sleep.
It seems like a dream, a dream that I remember as vividly as if it were yesterday. It has remained crystal clear to me all these years later. The car suddenly appeared not to turn on the curve, as if the steering wheel was locked to go straight ahead. I remember Orazio gasped as he struggled to turn the wheel, but to no avail.
Ahead of us was the side of a mountain and to the right of us was a ravine. Neither was a choice Orazio wanted to make, while he tried in vain to force steer the car to focus on the highway. Unfortunately all his efforts would be sullied by what would happen next.
In that moment, I realized that we were going to run smack into the mountain. I was also aware that once Orazio realized that we were on a fast approach crash he slammed on the brakes of the car. At this point everything began to move in slow motion in my head. As I sat in the front passenger seat I looked at the mountain and I spoke in a whisper, "This is it!" I placed my hands over my face and laid my head down on my lap.
As the car hit the guard rail I became aware of the vehicle beginning to flip front over back. My body left the seat and began to bounce off the roof of the car and back to the seat. In my mind, as if in slow motion, I became hyper-aware of the following event. On the second flip on the highway the windshield crashed. The car began to flip again and as my body rose up into the air it began to exit the car. In this moment the car was turning to roll on its side, car door to car door. On the next flip my body left the vehicle and felt as if it were airborne for long moments, before sliding across the pavement for several yards. I slid and then rolled until finally becoming inert.
Death when unmasked shows us a friendly face and is a terror only at a distance ~ Oliver Goldsmith
I don't know how long I was on the highway before I became super-conscious of the great peace that warmed my mind. I found myself looking down at myself and only feeling a deep love for the man who lay silent on the ground. For a long moment there was a partial disconnect, a split between my mind and my body. I found myself talking to my body attempting to wake it. I looked at it and wondered if it was breathing, if it was broken if it was alive. I wanted to shake my body, but found no response to my thoughts. I asked my body to wiggle a foot, to see if my back was okay. I asked my body to be calm that help would be on the way.
And then, in the silence, I was super aware of how quiet it was in the darkness. I looked around and there were no cars on the highway, no lights, nothing. Just darkness. And there was the two of me. My body lay on the highway in total disrepair and my mind hovered above it attempting to comfort what was left of my life.
In the next moment, I began to think about all of the people I loved and that I did not have a chance to say goodbye to before the crash. I thought of my mother and wished I had a phone to call her, to tell her that I was okay, that everything was fine. "I am safe and not in any pain," I wanted to say. I wanted to tell her I loved her and that she needed to tell everyone that it was quick and I was having a great day with friends on the beach. I wanted to tell her that I was sorry that this was going to break her heart. I wanted to let her know that I felt peaceful and remarkably lighter. Perhaps it was the absence of gravity, or the fact that I was aware that the only thing that really was noticeably different is that I had stopped breathing. Everything else seemed the same in a way. I was still me perhaps a bit clearer, more peaceful and hyper-aware of all my thoughts past, present and future.
I became aware that I knew all of me from times before and times to come; of cities long destroyed and wars lost; of mothers and fathers and lovers both male and female that I had lived through. I remembered the bodies that had hosted me for what seemed like ions. It was almost overwhelming to 'time trip' in those moments. I had to stop; I had to stay focused on my body. I had to take care of my body until, well until it too was at rest or whatever it required.
I also became aware that my friends were silent. Where were they? Were they alive? Where was the car? I realized that the car was gone, that it had disappeared over the cliff. However, I was unclear if my friends were still alive or not. At that moment there were bright lights, flashes of cars approaching and stopping and people running over to my body and looking over the cliff on the other side of the guardrail. Then there was wailing and crying and gasping as more and more people stopped and came running. I found myself trying to tell them to pick me up and take me to the hospital, or just call an ambulance to just do something other than standing around wailing and gasping. It was all so strange to me.
In the night of death, hope sees a star, and listening love can hear the rustle of a wing ~ Robert G Ingersoll
I had no sense of time, no sense of how long I had been there bleeding and half shredded. Time had no hold on me, there was no ticking clock inside of me telling me how many minutes had come and gone. There was only me and many Italians standing around. Eventually several ambulances, fire trucks, and police cars arrived, then some tow-trucks and helicopters. The highway had been closed down and flares were placed everywhere. I rose up into the sky and could see for miles and observe all the movement.
The emergency team had lifted me onto a stretcher and strapped me in. They placed oxygen over my face and were putting my head into some kind of clamp. I watched trying to talk to the paramedics and tell them that I was with friends. They needed to find my friends! I looked at my body all strapped in and covered being placed into the ambulance. I was still shouting at the police and paramedics to find my friends. I did not want to leave the scene without them, without knowing they were okay. But to no avail. The doors were slammed shut and I was on my way to Naples. I was still taking the trip we all had planned earlier that day.
I stayed with my body travelling along the highway and when it arrived at the hospital. For a short stint of time I was going in and out of my body like a yo-yo! Remarkably, I became conscious for a while after I was transported to the first hospital. After a short time I was transferred to a second military hospital at NATO, where I was operated on for several hours. I found out much later that I went through several transfusions and my exploratory surgery was basically due to the fact that I had hematomas on all my major organs and I had lost a lot of blood.
In the meantime I watched the operation. My gosh the amount of doctors in the room… and all the staff involved! I was observing everything. But at some point I once again found myself quickly evaporating from the room. I don't really know what else to call it. One moment I was there the next moment I was in another space. I did not see any white light or tunnel. What I did see was unexplainable. It was a Voice. And the Voice had a form but not a human form. The Voice had a beautiful multi-colored aura and shape. It felt loving and warm and compassionate to me. The Voice talked with me, not to me. It was everywhere and nowhere.
I know this always sounds so unreal when people talk about their experience with the afterlife, but it is truly nothing like we imagine from the movies or the books. It is other worldly, and very enjoyable. And so remarkably easy. It is as if everything really is okay. All is understood. All is known. Nothing is doubted or hidden. I felt everlasting and filled with love.
I loved feeling so good and remembered everything and everybody and every experience. Yes, there are past lives, lots of them, and future ones as well. And most importantly, I was aware that no religion on Earth can express the true nature of Love. It is not a being, but all beings combined. Life is everlasting and filled with experiences of creation and so many possibilities. I was aware of it and more than I can now remember since I returned.
The classic Soul Travel experience is leaving the human body in full awareness and having the Light and Sound of God flow directly into the Soul body ~ Harold Klemp
But, I do know I was given an opportunity to stay. I did not have to go back to my body if I did not want to. It would be okay to stay. And a part of me wanted to stay, but there was also a part of me that wanted to return. It did not seem crazy to me to return, but the right thing to do. I had unfinished business. I felt I had a plan and I wanted the opportunity to complete my mission. And in my mind's eye I knew deeply what the mission was to be. I did not hesitate.
I requested the Voice, who now appeared as a committee, to allow me to return. I was told that it would take a great deal for me to recover my body. It would require great nurturing and love. I would have immense obstacles to overcome for many years, but I could do it. I would be guided and instructed. I believed this to be true. I knew I could depend on the love. I was not sure what the obstacles would be, but I knew I would be okay. I knew I had always been okay, no matter what, and that the Voice would never abandon me – or for that matter anyone else. I could trust that this was the truth.
As quickly as it was decided to allow me to return, I awoke from a coma in body traction unable to move. But I was alive again in my body and the smiling faces looking down at me were familiar and loving. They were astonished and amazed. I had returned into my pain body and my new journey would begin.
It remains astounding and sometimes difficult, but always the path of love, for I know that all is well in each of us. All is goodness even when we are alone, afraid and hungry. We are protected by a greater story than most of us can imagine. I remained curious for years why so many of us do not know where we come from or why we are here. It all seemed so perfectly clear when I was gone. But once I returned, so much became veiled again. I asked for a reason for this and was told it was because I wanted it to be a surprise! I laughed, because I knew this would be something I would want – to be in this every day and feel it anew every morning. And to be grateful to have this great adventure again. And to most importantly know now that just the sheer pleasure of breathing, that breath is a miracle of this moment.
About The Author: Dr. Robert Pease, Ph.D. is an internationally recognized psychic intuitive, numerologist, transpersonal counselor, radio host, seminar leader and metaphysical teacher. Dr. Robert holds several degrees including a doctorate in Metaphysics and Counseling. An ordained minister, Reiki and Seichim Master Dr. Robert is the author of books and articles on Healing, Numerology, Addiction Recovery, Love Relationships, Reiki Instruction and practical applications of Psychic Gifts. You can get a reading from Dr. Robert Pease at PsychicAccess.com.


One Response to "Beyond the Veil – A Life Possible Afterlife"