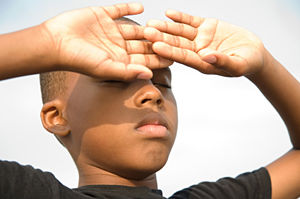 Young children do not have an understanding of titles, but they can see right down into your soul. For that reason, I trust them a lot more than I do adults. It is my belief that all infants are close to their origins and are therefore, psychic. It is parents, relatives, and other outside forces that tell the innocent child not to believe what they see, hear, taste, can feel, or smell.
Why do we adults think we have to always be in control of children?  Why can't we be compassionate to the realities of what children are experiencing? The only reason many of us know we are psychic is because our wise parents had enough sense not to demand that we ignore what we were seeing, hearing, tasting, touching or smelling.
I am air. I think everything is air like me; plants, rocks a and animals, buildings and everything. You can feel it when the wind blows. People have different flavored airs. God did not make us because he is air like we are. Everything is air, the hamster, the picture and everything. We are all the same thing ~ Denise, age 4
Out of the Mouths of Babes
An intimidated child will listen to being told they have a "good imagination," but to not speak about it. An encouraged or praised child will become alert to what is going on in their surroundings and will report the truth. If a child resists being near someone, anyone, be on the alert for signs of them, or someone close to them, giving off poor energies.
A wise adult will listen to what comes out of the mouths of babes. They speak the truth if they are not bullied or otherwise made to feel odd. Be alert to what they say. Honor and respect their words. You might get some priceless information at just the right time in your life.
Are They Innocent or Insightful?
Children speak with their hearts. They do not need words. I live around children who speak a language that I rarely understand. I also work with highly disabled children who are unable to use any words. This is not "a handicap" because children communicate with their body language. In fact, about 85% of our adult communication is body language. Pay attention to body language of children and you will learn a great deal. Toddlers often communicate with family pets. Twins do not use words between each other until they are forced to in an educational or social situation.
Conclusion
If you have influence over a child or grandchild, give them a lifelong gift. Do not ignore what they see. Tell them that spirit in any form: God, Elohim, Vishnu, Isis, Ishvara, Shiva, Waheguru, Jehovah, Eloah, Amba, Onmiscient, Great Spirit, Ahura Mazda, and all unspoken or unwritten names is speaking to them. Help them to not be afraid by making sure they understand that such contact is completely normal. The outcome will likely be a much happier and well-adjusted child who has the gift of insight. Such children rarely seek out drugs as teenagers because they never feel alone; spirit is always lovingly with them.
Quote courtesy of ChildSpirit.org
About The Author: Jacquie Omi is a Master healer of children and animals who resides in a poor indigenous village in Central Mexico. She is a deeply spiritual practitioner and a well educated research scientist who brings her Eastern thought into Western situations. She has been a nonprofit leader since 1986, the president of an educational project since 1991, an Arizona State Certified Teacher (birth ­ grade 12) and a facilitator of businesses since 1986. To attain inner peace and draw positive healing energy into your life, Jacquie can be found at PsychicAccess.com