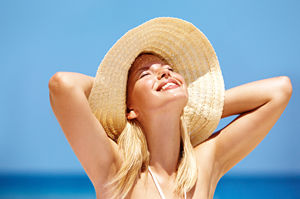 With the summertime on our doorstep in the Northern Hemisphere, people everywhere have been readying themselves in pretty much the same way. Whether you have been getting in shape, or planning a vacation, keep one thing in mind – with the change of every season, comes a change in your energy.
Summer is the most anticipated season of the year and this year should be yours. Outdoor activities are a great way to keep you centered, and bring your mood up. Go for a walk through the park, a trip to the local lake or beach (water is my favorite energy booster), amusement parks, hiking, rock climbing, whatever! If you stay active and forget your troubles for just a few hours, you will start to feel the change in your energy levels. 
However, the summer for some people will most likely not be as pleasant. Don't let that be you. Take advantage of the power you have within and let that fire burn brighter than ever.
And so with the sunshine and the great bursts of leaves growing on the trees, just as things grow in fast movies, I had that familiar conviction that life was beginning over again with the summer ~ F. Scott Fitzgerald
As I've mentioned before, keep your thought process positive to bring all the wonderful blessings that you're truly meant to receive. Don't focus on the negative turns that are thrown at you, just brush them off, and find a way to turn it around.
Luckily now is the perfect time for anyone to reinvent their outer aura. You are in total control of the direction of your life, and hopefully tomorrow will be that much more positive of a day. So play safe and enjoy the sun!
About The Author: Kimberly was first recognized for her remarkable psychic talents at age eleven, and has since gone on to become a leading spiritual counselor and expert relationship advisor, not only in her Danbury, CT community, but around the globe. For over twenty years, she's utilized her talents in spell casting, palmistry, Tarot reading, and aura and chakra cleansing for many celebrated clients, including Anna Nicole Smith! In her spare time, she volunteers at a homeless shelter and runs a recycling drive for the local children's hospital. Kimberly devotes herself completely to every client and will selflessly devote herself to you at: PsychicAccess.com.