Finding Chemistry In Online Dating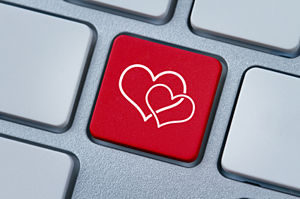 Did you know that of the 54 million single people in the USA, as many as 40 million have tried online dating and approximately 17% of marriages in the last year were couples who met online? The researchers most likely didn't ask about 'chemistry', because it wasn't mentioned in the statistics.  Maybe it's the 'Logical Libra' in me, but I am certain that romantic chemistry cannot be transmitted through the cloud or Twitter or Facebook or any online dating site, or even through Skype. Until human pheromones can be electronically transmitted, I remain firm in my belief that real, in-person chemistry plays a huge factor in a couple's compatibility.
As a psychic, I've spoken to many who fall in love without having met with the man or woman in person. The hope we all have is to meet our positive soulmate and live happily ever after. And why not? People do just that. But, when the hope becomes so overwhelming that we project desired attributes and hold on to what we read in the person's online profile, all rational thought drops off the radar. Planning the wedding at this stage seems a bit premature.
Computer dating is fine, if you're a computer ~ Rita Mae Brown
Remember, an online advertisement is a lot like a résumé, because they're both designed to get a response. How do you know that the person you 'winked' at hasn't used some creative writing on their profile? Or that the photos are not of his younger, cuter brother?
I was browsing through Match.com the other day when some 'matches' were sent to my email. I clicked on one man's photo, because he looked good for his age – fit, athletic, rugged. He had 25 photos, which seemed excessive to me, so I breezed through them and quickly saw that fit, rugged man morph into an unfit, rugged man with white hair and a shirt-button popping profile. In fact, the latter photos also had several morphs. Will the real Mr. Right please raise his hand? I won't belabor this point, and this is a very surface-level observation, although it raised an intuitive 'yellow alert'.
Online dating sites do not screen people. There are no background checks, no credit or criminal history, no interviews with ex-partners. All you have to rely upon is how people portray themselves.
The important thing to remember when you are dating online is to monitor your expectations and your heart, until you really know each other. During the course of a year, you should have completed a cycle where you've had several milestones marked by holidays, birthdays and events.
The minute I stopped trying to find the right girl, and started trying to become the right guy…the girl came ~ Jonathan Antin
Even though on paper you appear to have the same interests, like sports, travel, the outdoors and museums, the important thing to know is whether you carry out these activities in compatible ways. Suppose your idea of fun traveling is to find quaint, out-of-the-way places by driving through the countryside, while your partner's interest is to backpack, bike and hike. Is compromise acceptable, or do you both dig in your heels? You cannot really know how this plays out by just talking in a chat room.
Deeper than appearance, chemistry, and how they appear on your computer screen, it's important that you're in-sync with values, mores, and especially how you handle day-to-day life and finances. Can you constructively disagree? Do you feel as good when you're not together as when you are?
It takes time and energy to know someone. It's important for your emotional well-being to let love grow so the foundation of your relationship is strong. With this knowledge, I wish you good luck and remember that awareness and positive thoughts attract positivity into your life!
About The Author: Dianna

As a conduit to Spirit since birth Dianna provides channeled information from her Guides, Archangels, Ascended Masters & Animal Spirits. During readings, information comes to her through telepathy, empathy, visual images and physical sensations. She additionally uses Automatic Writing for very specific details and timing, Tarot and the Lenormand Cards. Dianna's specialties are providing you with remarkably accurate answers to your questions using her psychic consciousness to assist you in reaching new and rewarding goals. A Libra/Aquarius rising with three grand trines in her chart, Dianna has chosen to use her psychic gifts and Reiki Healing Energy to help others, providing practical answers to life's questions plus healing and clearing blockages. You can get a psychic reading from Dianna at
PsychicAccess.com.


One Response to Finding Chemistry In Online Dating