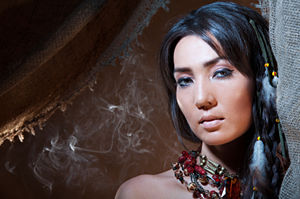 So often I receive comments and questions regarding the medicine bag that I wear around my neck. The most common enquiry being, "Are you sick?" Of course, being a medicine bag, the question is a natural one, but the medicine bag is so much more than just something you keep close to you if you are ill.
The traditional Native American medicine bag is a very personal and intense object. It contains items that are specific and emotionally charged for the owner. The meanings behind the objects contained in my medicine bag are private, thought-provoking and truly the most intimate of anything I own.
The medicine bag brings the wearer increased spirituality and protection. They are used in ceremonies, as well as every day meditations and for increased psychic awareness. So often, when my mind feels scattered and my concentration takes me away from the peace and serenity that I choose to maintain in my life, I will meditate while wearing one of my medicine bags. By concentrating on its contents, and the healing and cleansing properties of the sage and sweet grass it contains, I can immediately clear the negative thoughts and achieve the balance needed for a deep and meaningful meditative experience.
Walk sacred and talk sacred my sweet brothers and sisters ~ Chief Silver Bear
Native Americans medicine bags typically contain herbs and plants, stones that carry a special vibration to the individual, fetishes (a carved animal totem that has a special meaning or connection), seeds, tobacco, cedar and other power objects. Wearers would also collect items during their spiritual journeys, such as feathers and animal bones, so they could continue to reflect and move forward towards their enlightenment and connection with the Great Spirit.
If you are having difficulty with freeing up your mind during meditation, or just having difficulty maintaining balance in your life, you may want to consider putting together your own medicine bag. You can find all kinds of bags on Native American websites, including those that are worn around your neck, on your belt, or kept in purses and briefcases. They come in all different sizes, with or without fringe, beaded and plain. They are usually made from leather, with the most common being from deer or elk hide.
Make sure that you cleanse each item before putting it into your bag. Cleansing (or smudging) is achieved by burning sage and 'washing' the item in the cleansing energy of the smoke. Praying to your higher spirit during the cleansing process is recommended, but not required. Pick the items that you put into your bag with deep care and consideration, they must have a deep and joyful significance to you. These items can be small crosses, charms, souvenirs from a meaningful vacation, small stones (called Grandfathers), shells from a walk on the beach, jewelry, lockets or items given to you that are deeply personal and meaningful, or from someone who has passed on. Choose items that speak to you and fill you with joy and peace. Always include sage and other herbs as well. Choose herbs that have healing properties, so if you are feeling under the weather you can hold or wear the bag during your illness.
We have taken so much from your culture, I wish you had taken something from ours…For there were some beautiful and good things within it ~ Chief Dan George
If you choose to wear your bag, where it can be seen or noticed, be prepared for questions from people you come into contact with. This opens the door for you to share and express your spirituality and beliefs, to perhaps touch someone's life who needs to feel your energy and healing vibration.
You can always change out the items in your bag. Sometimes stones and beads change color or fade which causes them to lose their power or meaning for you. Herbs will lose their scent and dry up over time and you may want to change them out as well. Always feel free to show people the items in your bag and share the stories and meanings behind them. Just remember that the medicine bag is sacred, extremely personal and should only be opened by you.
About The Author: For over 35 years, Tasha has been a Psychic Life Coach and Advisor, using her Clairvoyant, Clairaudient and Stone-Reading abilities to provide detailed information from her guides. This Florida resident has read for rock stars, and is the psychic and spiritual advisor to many well-known musicians. She's even read for family members of a prior U.S. President! If you're ready to have your world rocked, I suggest a reading with Tasha at PsychicAccess.com.