From Psychotherapy To Psychic Readings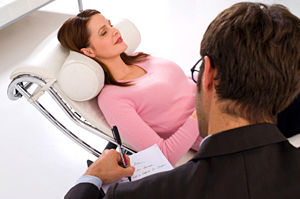 In an effort to know more about myself, I embarked upon a journey of self-discovery through psychotherapy many years ago.
My first therapist, in 1970's New York City, was an Analyst, or more specifically a Psychoanalytic Psychotherapist. Big words that meant he subscribed rigidly to Freudian therapy. Sigmund Freud, the 'father of Psychoanalysis', originally developed this traditional therapeutic method, which mainly deals with exploring the subconscious mind and aims to explore repressed impulses, anxieties, and internal conflicts.
My Analyst sat in a big leather chair in a dimly-lit room, while I lay on a matching leather couch talking, for the entire 50-minute session. He occasionally said, "Uhmmm"…and then eventually, "Time's up. See you next week."
Psychology doesn't address the soul; that's something else ~ David Chase
There was apparently good reason for the Analyst not saying anything. Any emotions that are aroused towards the Analyst are considered 'displaced', or transferred from myself to the Analyst. I exited by a second door to keep anonymity between myself and anyone else who may have been in the waiting room.
This was a time when I, along with my friends, always prefaced sentences with, "My therapist says…"  Whew! I'm glad those days are over. At this point, I honestly don't remember whether Psychology helped me, or not. My friend, who went to a different analyst, seemed to be delving deep into her subconscious and told me about the significance of birds in her life, which appeared in prints on her clothing and draperies at home. Hmmm…I don't remember anything so deep happening to me!
Through the years I avoided going to any more analysts, and sought more traditional talking therapists and some New Age healing techniques, but the biggest breakthrough I've ever had caused me to switch from Psychotherapy to Psychic Readings.
In the 1990's in San Francisco I was going through a difficult divorce when a friend literally dragged me to a Psychic Reader. Dealing with my now ex-husband was twisting my mind around. The Psychic, Anastasia, cleared things up for me in one session and I could now think clearly again.
What analysis is all about is for one hour a week, you sit and hope that for a flash of a moment you will experience connectedness ~ Marion Woodman
Anastasia was also instrumental in helping me to recognize my own psychic abilities. She taught me rituals and how to read Tarot cards. During divorce proceedings I'd see her every night and review how the day went, as well as what to expect the next day. She really helped me to understand what people were thinking, what their motivations were, and specifically what to say.
In years following, I also engaged in past life regression therapy, which is not for the weak at heart. I went through a lot of pain, but also a lot of joy reveling in my newfound clarity. I started to perform readings professionally and learned to trust in my psychic abilities and the remarkable accuracy I achieved.
I sometimes still get psychic readings to kick-start myself, especially when I get 'bogged down'. It's also been very therapeutic to dialogue with the Tarot Cards and Oracle Cards I use in readings.
Compared to the results I got from psychotherapy, I've come a much longer way in a much shorter period of time. I'm sticking with Psychic Readings!
About The Author: Dianna

As a conduit to Spirit since birth Dianna provides channeled information from her Guides, Archangels, Ascended Masters & Animal Spirits. During readings, information comes to her through telepathy, empathy, visual images and physical sensations. She additionally uses Automatic Writing for very specific details and timing, Tarot and the Lenormand Cards. Dianna's specialties are providing you with remarkably accurate answers to your questions using her psychic consciousness to assist you in reaching new and rewarding goals. A Libra/Aquarius rising with three grand trines in her chart, Dianna has chosen to use her psychic gifts and Reiki Healing Energy to help others, providing practical answers to life's questions plus healing and clearing blockages. You can get a psychic reading from Dianna at
PsychicAccess.com.