My Animal Totem Guides Me To Joy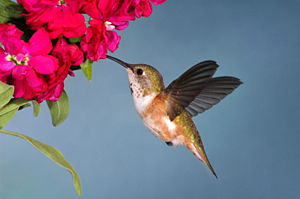 For most of my childhood I lived in a rural farming area surrounded by lots of woods and wildlife. And I was always so very drawn to the birds in our region in particular. The Eagles, Owls, Geese, Blue Heron, Swans, Finches, Swallows, Robins, and most of all the Hummingbirds, fascinated me so very much. Even in the cities I lived later in my life there were always Hummingbirds. They have been part of my existence since I can remember.
But, it wasn't until I was in my 30's, when I spoke with a Shaman that I understood why. The Hummingbird is my Animal Totem and it represents Joy.  And now I know why I have always been so drawn to them. There has been so much sorrow, violence and abuse in most of my life; it was only in staying connected to Joy that have I survived it all. The emotion and mental state of Joy has a kind of power that transcends all things that may break our bodies and our hearts.
Your power animal represents the entire species of the animal that is protecting and helping you. For example, you don't have the spirit of a specific eagle, kangaroo, or squirrel protecting you. Rather, you have the protection of the spirit of the entire species of eagle, kangaroo, or squirrel ~ Sandra Ingerman
No matter what has been going on in my life, I have always been able to stay in touch with things that bring me joy:  a good cup of coffee in the morning; a warm cup of tea in the evening; a beautiful sunrise; the song of birds singing; writing poetry, painting and quilting; and so much more.
Simple things bring me Joy. The card and gift from my son and his sweetheart this year are still bringing me Joy, because I have them up on my wall where I can see them every day. So, it makes sense that the Hummingbird is still my Totem or Power animal, and that it has meant so much to me. There are other meanings for the Hummingbird along with Joy, but it is the power of Joy that I have needed to keep me reaching for the light when all around me has been dark.
About The Author: Heartlight

Heartlight is an "Empathic Coach" with a lifetime of developing of ESP. With 16 years of working as a Psychic Adviser, (the last 7 years of adding Life, Motivational and Relationship Coaching training into the mix), she maintains a very loyal following at PsychicAccess.com. She goes beyond simply sharing messages about things that are hidden from her clients awareness along with information she receives about their future. Heartlight also coaches her callers to use the messages that come through her empathic gifts for their own highest good by blending kindness, humor and wisdom into her readings. Get a reading today with Heartlight at PsychicAccess.com.